The first item may tell you why you do this thing we call scouting.

-----Original Message-----

From: (SAF) Scouting Alumni and Friends <noreply@scouting.org>

To: Richard Curran <cmugrick@aol.com>

Sent: Sat, Jun 24, 2017 2:05 pm

Subject: ScoutingWire: Alumni Edition for June 24, 2017

 

Hello Rick,

We hope you are enjoying your summer! Here are some of the latest stories in Scouting.

Sincerely,
Dustin Farris
Director, Scouting Alumni and Friends
P.S. Always remember...Once A Scout, Always A Scout.
P.P.S. It's coming down the tracks! If you're really into trains, you don't want to miss this commemorative, limited edition Bachmann
BSA train box car
. You can get yours by visiting the
NESA Store
!
P.P.P.S. If you find a typo in this ScoutingWire: Alumni edition, send us an email at
bsaalumni@scouting.org
, with the subject "Alumni Spelling Bee", and description of the typo. We will feature YOU in a future issue of
Alumni Alive
!
---
Parents of Boy with Autism Were Told to 'Try Scouting,' and This Happened
From Bryan on Scouting: If you had to pick just one point of the Scout Law to describe Isaiah V., it would be "brave." That same word applies...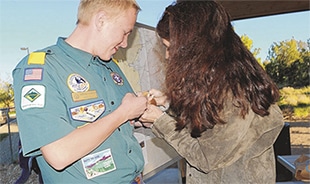 Eagle Scout Helps Save Ranch from Danger of Fire
When a massive fire threatened to destroy his family's ranch, and Eagle Scout's quick thinking and commitment to be prepared helped protect...
How The Graphic Arts Merit Badge Found New Life
With our modern fixation on shiny new technology, it's refreshing to see Scouts get excited about something from the pre-digital age...
Special Offer to Pathfinders
Summer Vacations Are Here!
Needing a vacation, but not wanting to spend a fortune? The
Travel Center
is offering up to
70% OFF
on hotel reservations and vacation rentals! This is a deal you can't miss! Go ahead, you deserve it!
Log-in to your
Pathfinder benefits
to learn more about this offer and other discounts available.
If you are not already a Pathfinder member, upgrade today at
www.scoutingalumni.org
. A percentage of your Pathfinder membership goes to support Scouting in your community.
Upcoming Alumni Events
Don't see an event in your area? Submit one
here
!
Florida

Wed.
8/2/2017
 

Illinois

Tue.
8/30/2017
 

 

Sat.
10/1/2017
 

 

Tue.
11/1/2017
 

Michigan

Fri.
6/30/2017
 

 

Sat.
8/19/2017
 

 

Tue.
8/22/2017
 

New Jersey

Sun.
7/9/2017
 

 

Sat.
8/19/2017
 

New York

Sat.
8/5/2017
 

TMR Alumni Day

90th Anniversary Celebration, 8/5 - 8/6/2017 2:00pm (EST) - TMR Camp

 

Sun.
11/5/2017
 

Ohio

Tue.
6/27/2017
 

 

Wed.
6/28/2017
 
Mailing Address:
Scouting Alumni Association
1325 W. Walnut Hill Lane
P.O. Box 152079
Irving, TX 75015-2079
US
Contact Name: Scouting Alumni Association
Telephone Number: (972) 580-2000
To prevent mailbox filters from deleting mailings from (SAF) Scouting Alumni and Friends, add
noreply@scouting.org
to your address book.
Remove yourself from this mailing
.
Modify your profile
.